FOR IMMEDIATE RELEASE
Bluegrass Traditionalist Laura Orshaw Releases Upbeat New Single on Dark Shadow Recording
"I Can't Settle Down" available now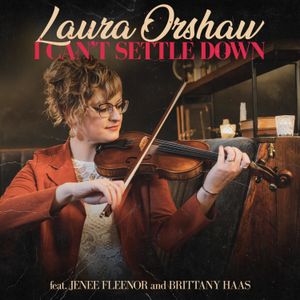 NASHVILLE, TN (April 22, 2022) — IBMA Award-winning artist Laura Orshaw releases new single, "I Can't Settle Down," with Dark Shadow Recording. Produced by label head Stephen Mougin, the song features Jenee Fleenor (2021 CMA Musician Of The Year) and Brittany Haas (2021 Artist in Residence at East Tennessee State University). This country-infused track showcases Orshaw's incredible fiddle skills and captivating vocal abilities. "I Can't Settle Down" was written by Roberta Gordon and Tim Carter and is available anywhere you consume music now.
Musicians: Laura Orshaw (Vocal/Fiddle), Jenee Fleenor (Vocal/Fiddle), Brittany Haas (Fiddle), Alan Bartram (Bass), Reed Stutz (Mandolin) and Catherine BB Bowness (Banjo)
Nashville Noise hosted the exclusive audio first listen.
Orshaw shares: "I used to think of myself as a homebody, but in the past few years I've realized that I love waking up on the tour bus, not knowing exactly where I am until I walk out the door. This sentiment paired with the square dance fiddle tune melody, is what drew me to 'I Can't Settle Down'.  Jenee Fleenor and Brittany Haas joined me for the triple fiddle section, and we created a rhythmic 'wall of sound' that'll make you want to shuffle around the dance floor!"
Orshaw was a recent guest on Steve Martin's Unreal Bluegrass to discuss the new single.
"I Can't Settle Down" is the third single from Laura's forthcoming album, Solitary Diamond, set to be released on May 27, 2022.
The single is available to DJs and radio programmers on AirPlay Direct  https://airplaydirect.com/music/lauraorshaw-solitarydiamond/ or by request to DSR Radio contact, Jana Mougin: jana@darkshadowrecording.com
ABOUT DARK SHADOW RECORDING:
Dark Shadow Recording is a full-service studio and record label led by award-winning Stephen Mougin, located on a hilltop that surveys Music City's electric skyline. The label produces and turns out music from some the industry's most promising artists in the Bluegrass, Americana, Country, and Folk genres
ABOUT LAURA ORSHAW:
A respected powerhouse on the Bluegrass scene, Orshaw was the first female to win SPBGMA Fiddle Player of the Year and prides herself on keeping the sounds of traditional Bluegrass alive in the genre. A seasoned performer, Orshaw has toured throughout the world opening and sharing the stage with artists such as Del McCoury, Ricky Skaggs, John Scofield, Jim Lauderdale, Old Crow Medicine Show, Sarah Jarosz, Tony Trischka, Becky Buller, and Darol Anger among others. Orshaw has celebrated a successful career as a member of the Grammy nominated Po' Ramblin' Boys and a two IBMA award winner (2020 Gospel Recorded Performance of the Year, 2020 Collaborative Recording of the Year). Stay up to date here: www.lauraorshaw.com
###
For media inquiries, please contact C2 Media Relations. 

Carly Caramanna |732-300-6698
Carly@C2MediaRelations.com
contact: Jana Mougin 
Our mailing address is: 
Dark Shadow Recording, PO Box 52, Joelton, TN 37080
Copyright © 2022 Dark Shadow Recording. All rights reserved.